I don't know about you but I personally cannot believe that Thanksgiving is NEXT WEEK! I mean where did the year go??? As you prepare to wear your most comfy clothes and consume mass amounts of goodies, fellowship with family and roll your eyes as your "sig" detaches from reality with nonstop football games...oh is that just me? *crickets* You should also be thinking about what gifts you will be giving to your loved ones this season.
NARS Cosmetics wants to help you out with that and has posted their ideas for holiday gifting on the
site
. With a 'Modern Kabuki' theme and a tendency to lean towards the more luxurious of beauty items this collection is sure to bring cheer to whoever is on the receiving end of these items. Here is what Francois Nars has to say:
"I am completely fascinated by Kabuki theatre; the makeup and costumes are especially beautiful. My attraction to this art form led to the creation of this Collection. The shades and products used in the NARS Kabuki Collection range from bright, intense shades to deep saturated hues."
Seems I am having a love affair with NARS as of late, but truth be told it has always been one of my favorite brands. It's time for you to fall in love with them also. See pics and details of the collection below:
HANAMICHI KABUKI-INSPIRED EYESHADOW PALETTE
Japanese for "flower path," this Kabuki theater walkway that extends into the audience was the inspiration for this eyeshadow palette, featuring a Kabuki-themed design and accompanied by a mini Kabuki Eye Brush. The colors are evocative of shades found in Kabuki theater- an icy white with flowers in rich shimmering deep rose and gold and matte black.
Price: $65
KUDOKI KABUKI MINI LIP COFFRET
Named for an element of Kabuki dance, this year's take on the Bento Box set features three new vibrant, super-saturated, limited edition shades poured into custom ceramic cups. Included is its own Kabuki Lip Brush and sleek keepsake wooden box.
Shades include:
Ougi - deep red
Takebue - neutral
Botan - deep pink
Price: $125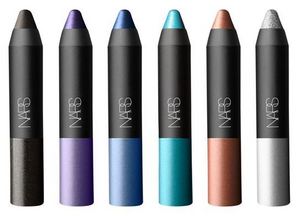 MIE KABUKI MINI SOFT TOUCH SHADOW PENCIL COFFRET
A collection of six mini, top-selling and limited edition Soft Touch Shadow Pencils. Just like their namesake Mie Kabuki† which references a moment of high emotion culminating in an extremely dramatic pose†these creamy, blendable, long-wearing crayons create bold, dramatic looks with just a few strokes.
Shades include:
NEW Tall Tale - deep metallic purple
NEW Magic Moon - deep metallic navy blue
NEW Ballets Russes - silver
Aigle Noir - black infused with gold shimmer
Palladium - turquoise with silver glitter
Skorpios - copper
Price: $55
KUROKO KABUKI MINI NAIL POLISH COFFRET
The set includes four mini-sized, bold and vivid nail polish colors based on shades traditionally used in Kabuki theatre.
Shades include:
Yoshiwara - red
Shiro-Nuri - white
Kata - black
Senryou - gold
Price: $35
NAGAUTA KABUKI BRUSH SET
Encased in an ultra-luxurious keepsake wooden bento box with red lacquer interior, this exquisite five-piece brush set is named for the principal musical forms in Kabuki theater and includes two new brushes exclusive to the set.
Products include:
NEW Kabuki Eye Brush (exclusive to the set)
Botan Brush
Ita Brush
Yachiyo Brush
Kabuki Lip (exclusive to the set)
Price: $225
All three coffret's are calling my name and y'all already know that brush set is EVERYTHING to me and more. I already own the Yachiyo brush which I purchased maybe 3 years ago and it is uber luxurious, not to mention still going strong. I love it for applying blush or highlight and I know you will too! Happy shopping!